𝐀𝐑𝐈𝐘𝐀 𝐑𝐀𝐈𝐍𝐁𝐎𝐖 𝐊𝐈𝐃𝐙 (𝐀𝐑𝐊) 𝐎𝐑𝐈𝐄𝐍𝐓𝐀𝐓𝐈𝐎𝐍 𝐃𝐀𝐘
---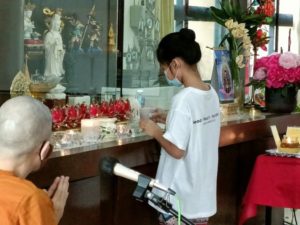 We decided to resume our ARK program this year to be on-site in Ariya Vihara and just adhered to the S.O.P strictly for our safety. The ARK Orientation Day was held on 20th February 2022, Sunday. Glad that 5 ARK families, in total of 15 parents and children joined the orientation.
We welcome the participants and started with Buddha puja and took refuge in the Triple Gem which was led by Ven. Sumangala. After that, we introduced the committee members of ARK and gave a brief introduction of the ARK program. Every participant got to know one another after the ice breaking game.
Later, the participants were shown around Ariya Vihara to familiarise themselves with the environment and the places to keep their things properly. Then followed by the Dhamma session in their respective classroom.
After lunch, the parents and children worked together to clean up the vihara with enthusiasm and joy. We will meet again for the next session on 6th March 2022.
Sadhu. Sadhu. Sadhu.